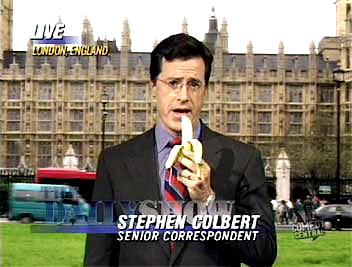 1. The truthiness will set you free!
2. And don't think you're off the hook, voters, you're the ones who made this bed. Now you're the ones who are going to have to move over so a gay couple can sleep in it. Tomorrow you're all going to wake up in a brave new world, a world where the Constitution gets trampled by an army of terrorist clones, created in a stem-cell research lab run by homosexual doctors who sterilize their instruments over burning American flags. Where tax-and-spend Democrats take all your hard-earned money and use it to buy electric cars for National Public Radio, and teach evolution to illegal immigrants. Oh, and everybody's high! You know what, I've had it! You people don't deserve a Republican majority! I quit!
3. In success, you wouldn't be able to say I'm conservative or liberal. I'm part of the blame-America-last crowd.
4. I believe that the government that governs best is a government that governs least, and by these standards we have set up a fabulous government in Iraq.
5. We know that polls are just a collection of statistics that reflect what people are thinking in 'reality.' And reality has a well known liberal bias.
6. Hey, what if we pulled out of our own civil war? We'd still have slaves! Why do you hate black people? Air tight logic!
7. Have you ever looked at a cloud and thought it was something else? Then stop...smoking...dope!
8. Lemme just talk to you for a second about something that I think is good for America: caramel apples ... I had one last night. Delicious. Not talking about candy apples. I think candy apples are a danger! You crack 'em, they're very sharp. You candy apple crowd need to wake up!
9. Now we all know that Fidel Castro dressed up like Marilyn Monroe and gave JFK a case of syphilis so bad it eventually blew out the back of his head.
10. Like O'Reilly, we'll grab the most important word out of every sentence, ... `The,' for example. Also, I'll say, `I'm angry,' and the graphic will read, `Colbert angry.'
11. I want to thank Comedy Central for picking up the show, but more importantly I want to congratulate Comedy Central for picking up the show,
12. The show is about me in that when you give opinions, you're saying something about yourself,
13. I can't prove it, but I can say it.
14. In order to maintain an untenable position, you have to be actively ignorant, ... One motto on the show is, 'Keep your facts, I'm going with the truth.'
15. My character is self-important, poorly informed, well-intentioned but an idiot, ... So we said, `Let's give him a promotion.'

16. Bush has a real problem on his hands here, John: What honor should he bestow on Karl Rove?
17. As God said to Job, Checkmate
18. I swallowed 18 condoms full of Truth and I'm heading over the border.
19. Knock Knock. Who's there? The Truth. No joke.
20. Move over Oprah you fat bitch, tonight every member of my audience receives a priceless gift... the Truth.
21. Forgive me Father, for I have Truthed.
22. Get some ice, I've pulled my groin. My enormous groin.
23. Hey America, nice ass!
24. Side effects of tonight's show may include euphoria, patriotism, and painful urination.
25. When I think about Truth, I touch myself...
26. The Colbert Report's terror level has been elevated to brown, somebody spilled coffee on the chart...
27. No animals were harmed in the recording of this episode. We tried but that damn monkey was just too fast.
28. Hey partridge in that pear tree. Stop eating all those pears.
29. Caution: You are about to watch me enter a no spin zone!
30. A, E, I, O, U, and sometimes Y? Consonant or vowel? Make up your mind, we're at war.
31. Happy Birthday. Charles Darwin ... in hell.
32. February, if you had any balls you'd be three days longer.
33. Librarians are hiding something.




For the rest, please visit Stephen Colbert For President 2008